Dec
13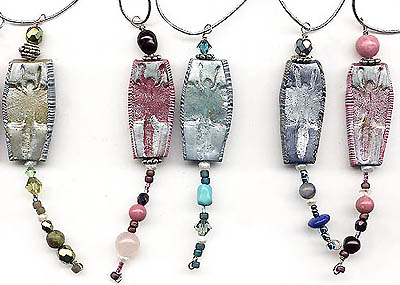 Welcome Ornament Thursday surfers!
My contribution is a non-traditional ornament featuring a dragonfly stamp.  Perfect if your tree features a garden or floral theme.  This project is suitable for beginners.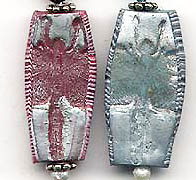 Materials:
Polymer clay Bead (instructions for bead)
22 gauge silver wire
Pewter spacer
Seed beads in size 8 & 11
Accent beads – I used pearls, crystals and semi-precious stones in monochromatic colors.
Elastic cord – silver color
Instructions:
1. Wire-wrap a large loop.
2. String on a large bead, spacer, dragonfly bead.
3. Add beads in a random order for the tail, this is a great time to use up left over beads.
4. End with another wire-wrapped loop, slip on a larger seed bead before you finish wrapping the loop so that the end looks finished.
5. Tie elastic cording to the top loop, proudly hang from your tree!
Ornament Thursday is a collection of bloggers sharing ornament projects.  Visit the links below for a visual feast of holiday craftiness:
Sara Naumann http://blog.paperwishes.com/sara/
Lynn Kvigne  http://beading.consumerhelpweb.com/blog/
Candie Cooper  http://candiecooper.typepad.com/savvycrafter/
Katie Hacker http://www.katiehacker.com/index.htm 
Margot Potter http://margotpotter.blogspot.com/
Linda Augsburg 
http://cs.makeitminemag.com/mimcs/blogs/makeitmine/Â 
Melanie Brooks Lukacs http://earthenwood-beads.blogspot.com/
Art Bead Scene  http://www.artbeadscene.blogspot.com/
Cindy Gimbrone http://lampworkdiva.blogspot.com 
Suzanne http://suzanne-catching-up.blogspot.com/
Humblebeads http://www.humblebeads.blogspot.com/
Polymer Clay Craft Gossip http://polymerclay.craftgossip.com/
Alexa Westerfield from http://swelldesigner.blogspot.com/
Debba Haupert http://www.girlfriendology.blogspot.com/
Elaine Luther http://www.CreativeTextureTools.com/news
Melissa Lee http://www.strandsofbeads.blogspot.com
Rebecca Peck http://vintagegirlmodernworld.wordpress.com/
Jean Yates http://prettykittydogmoonjewelry.blogspot.com
Michelle McGee http://fromichelle.blogspot.com/
Jenny Harada http://pomly.livejournal.com/ 
Jennifer Heynen http://jenniferjangles.blogspot.com/
Hali Chambers www.labyrinthgal.blogspot.com
Kriss Kramer www.art-interrupted.blogspot.com
Brandy Lung Gill http://accesstoexcess.blogspot.com/
[tags]polymer clay, christmas crafts, holiday projects, ornaments, ornaments thrusday[/tags]
By heather powers
You may also like...
Comments