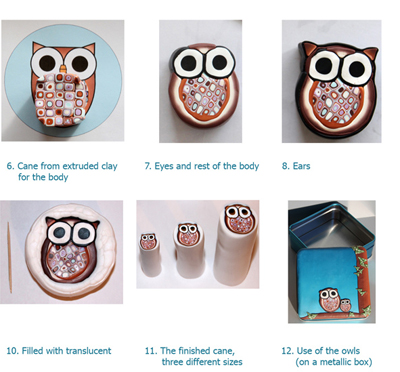 The snippet above is from Danielle's owl cane tutorial on Flickr. This Dutch artist has a whole album of lovely work and a website to see.…
Vickie Turner has some excellent in-depth info and step by step discussion of polymer clay. A recent post series starts with her explaining how clay works and comparing it to wax and earth clay. Have a browse, pick up some …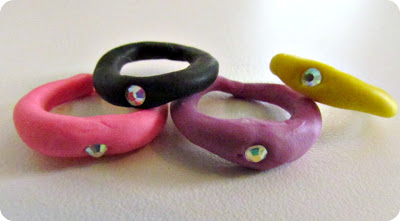 Like some of the designer rings but can't float the price? Tamara from Etcetorize made her fancy find from clay and shared how in this tutorial.
If you have the extra tools you could extrude a snake of half …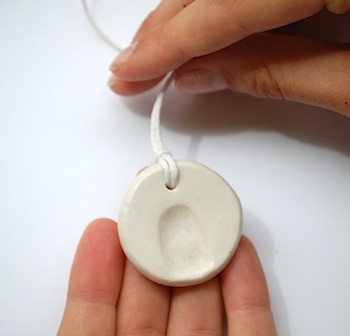 Fingerprint jewellery has been popular for a while and here's a clay version that would be perfect as a Mother's Day gift. I'd use ink or pigments of some sort to highlight the impression.
She talks about using the softer …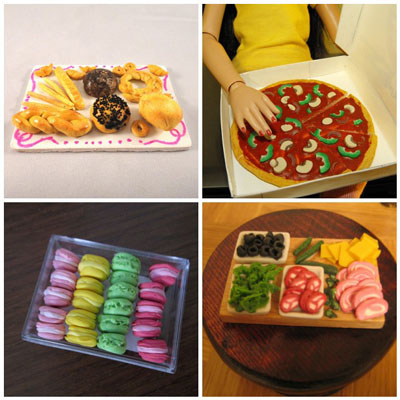 Where I live, spring hasn't really shown up and the weather is atrocious. Which leads to a lot of comfort food being made and eaten. Here's the miniature, polymer clay version!
1. Miniature Bread Board, 2. 1/3-1/4 scale veggie …
One of the best things about crafting has always been the chance to make gifts for people. Or buy handmade gifts if you're running a little short on time. Here's some great Mother's Day items: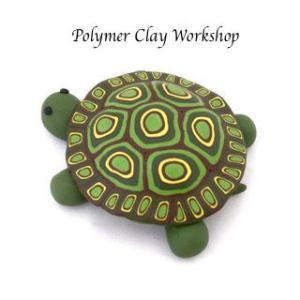 The super talented Meg Newberg shares another tutorial on her PolymerClayWorkshop site. This one uses a tiny tin and some darling canes (You could totally use the canes Meg sells, too!) to make a sweet turtle. She suggests an …
Melanie of Artzy Creations sent in her tutorial for her fancy looking bracelet and it's a twofer – there's an accompanying earrings tutorial as well! The tutorial describes how to make a nifty feather bead as well as fairly unusual …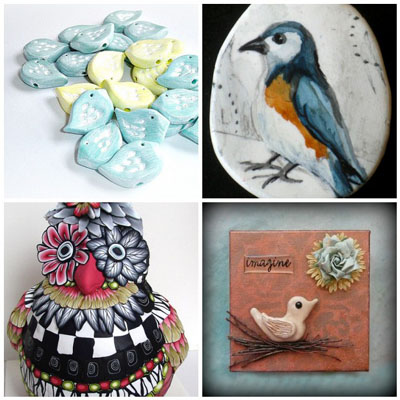 I was joking that my spring was gone to the birds (not shaping up to be very springy and awesome). But I love birds and like an crafty ADD person that got me thinking of birds and clay away went …
Continuing along with the cane theme… Amatista generously shares a tutorial on her Flickr photostream to make a flower cane similar to this one. She has a website to see more of her lovely work as well.…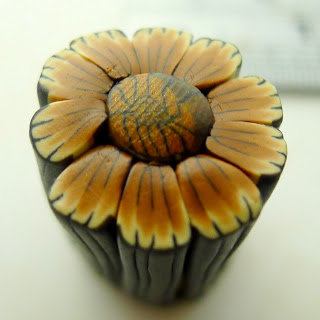 A picture tutorial, about halfway down, for the lovely flower cane above and some variants. This is a good way to use a single blend to make a variety of canes along the same theme.…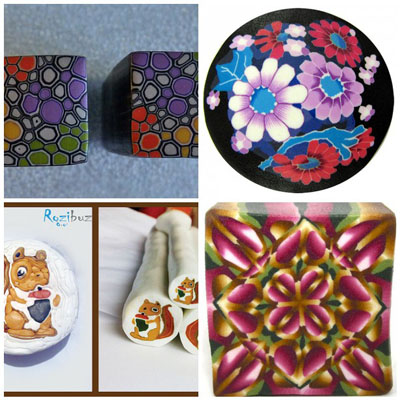 Continuing along with the canes… here's a good selection of current cane work from Flickr:
1. BJ's Cobblestone Canes, 2. Polymer clay flowers cane – Midnight Flame, 3. Squirrel, 4. rose kaleidoscope…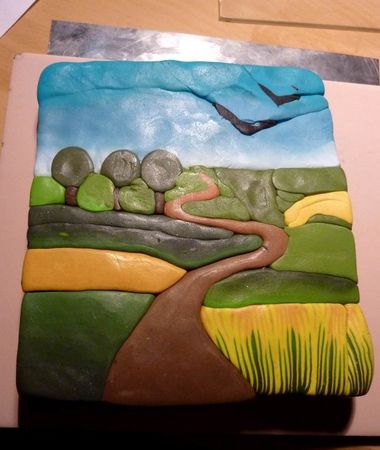 The canes I get asked about the most often are the big, complex ones. Some of my favourites to do are faces and butterflies but another form is a landscape cane. There's a great exploration of a landscape cane on …
Amy Christie posted this cute tutorial for stamped egg shaped place cards. It's sweet and simple so you could totally do it in time for Easter. I'd probably make the little holder out of clay too, using the same …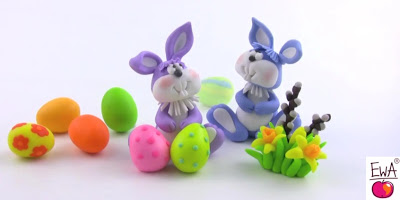 A super sweet tutorial video for a little Easter bunny and his eggs in case you need a few last minute pieces to add to your decor!
Photo by Ewa…
« newer posts
—
older posts »