Dec
20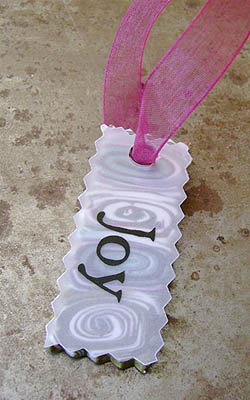 Today's project is a simple ornament that can do double duty as a gift tag.  I love embellishing gifts with a little something extra!
Materials:
polymer clay (I used scrap colors in red, olive, teal and white)
vellum paper
ribbon
wet/dry sandpaper (optional)
tools: pasta machine, cutting blade, scrapbooking scissors, paper punch
1. Layer the scrap clays together to form a rectangle, put contrasting colors next to each other.  Warm the clay between your hands, compressing it and compacting the edges of the scraps.
2. Roll the clay through the pasta machine on the thickest setting. 
3. With the cutting blade, trim to form a long rectangle. Starting at one end, roll up the clay to form a spiral.  Trim edges.
4. Roll out a sheet of green clay on the thickest setting of the pasta machine.  Slice off thin layers of the spiral and stick it on the green clay.  Run the sheet of green clay through the pasta machine on the thickest setting one more time.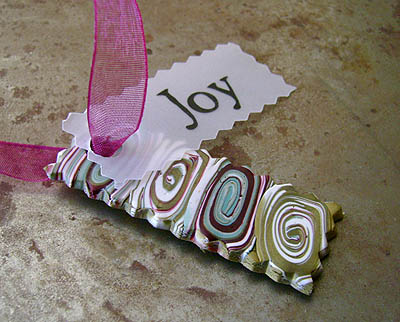 5. Trim with scrapbooking scissors. Bake, sand if desired.
6. Print out holiday greetings on vellum with your home printer.  Trim and punch a hole with with the paper punch.  Punch a hole in the top of the polymer clay tag.  Add vellum to clay tag/ornaments with ribbon.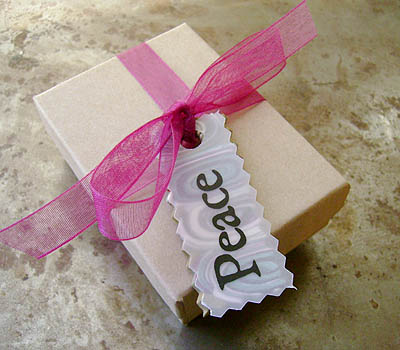 See what other crafty goodness those Ornament Thursday designers have come up with this week:
Christmas cookie – Jennifer Heynen
Christmas tree finger labyrinth – Hali Chambers
Ring in the New Year – Kriss Cramer
Quilty pieced snowman – Linda Augsburg
Simply striking sparkling spheres – Margot Potter
Beaded memory wire – Elaine Luther
Wire & beaded tree – Lynn Kvigne
 Beaded sun catcher – Debba Haupert
Jolly and yummy ceramic candy – Melanie Brooks Lukacs 
 Polymer snowflake embedded in resin – Melissa Lee
Beaded candy canes – Candie Cooper
Polymer clay gift tag/ornament – Heather Powers
Twisted blues – Lampwork Diva aka Cindy Gimbrone  
Holiday spiral tree & party pixie – Art Bead Scene  
Wire bird's nest – Rebecca Peck
Plush gingerbread doggie – Jenny Harada
Swell ornament – Alexa Westerfield
Holiday paper crafting – Brandy Lung Gill
Shaving cream & chipboard ornament – Michelle McGee
Easy needle-felted orb – Katie Hacker
[tags]polymer clay, holiday crafts, christmas projects, ornament Thursday[/tags]
You may also like...
Comments