Apr
17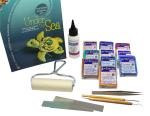 Wow, have you been to Whole Lotta Whimsy?  What a tool section! Among other very cool offerings: a very artsy collection of stamps, molds, cutters and texturing tools.  OH, I want to shop!!!
And while you are shopping online you can listen to the Craftcast interview with the one of creative folks behind the Whimsy, Tonya Davidson.
[tags]polymer clay, tools, crafts, craftcast, Whole Lotta Whimsy[/tags]
By heather powers
You may also like...
Comments