I realize the official first day was 2 weeks ago or so but the first big show of my fall season was this weekend and the mornings were particularly chilly – almost frosty! The rest of the polymer clay world …
I sell my work on and offline. Because of this, I started making Christmas decorations shortly after Christmas last year. At least, I tell myself it's because of the retail calendar and not because I couldn't finish my to-do list …
I searched for pumpkins to see what folks were doing with the theme this autumn. Polymer clay is such a flexible medium you can interpret a theme an awful lot of ways…
Some more fun and cheery Halloween clay: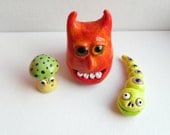 Halloween Creatures by Erinle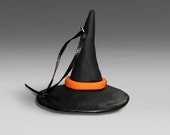 Witch's Hat by RedCreekDesignCo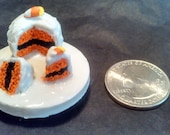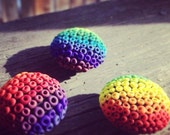 Halloween Cake Magnet by ClayConfectionary
…
JooJoo on Etsy is a talented jewellery and print artist. She's also a talented clayer, as you can see from the adorable little cactus on her site. I found the cactus as I was looking for inspiration – yes, I …
School gets back in on Tuesday where I live. My poor teen is both dreading and looking forward to the whole deal. Back to school themed work is in full force on Etsy:
I'm always happy to find crafters who, experienced in other mediums, are having a blast trying out polymer clay. Ellie Foster at Feltabulous is my latest find and you can see not only is she having a blast but she's …
Just checking out what's new on Etsy! I'm always happy to find new (to me!) shops, as well.
| | |
| --- | --- |
| | |
| Tropical Sunset Pin by TissysTreasures | Cane Set by SevenWestDesigns |
| | |
| Fox Rings by VeryTale | Caramel Apple Keychain by GuiltfreeDecadence |
A little about what the polymer clay world is up to:
Have you heart about EuroSynergy? It run April 30 thru May 3 2014 in Malta. There are pre-conference workshops. It sounds awesome!
Of course there's PCC's Monthly challenge

…
When you search polymer clay on Etsy it makes suggestions including "fantasy". This time, I caved and searched fantasy. Happy I did! People are so talented!
| | |
| --- | --- |
| | |
| Shoemaker's Elves by TheWindowOfTheSoul | Dragon Necklace by ClayByKim |
| | |
| Posable Hippogryph Doll by Sphenodontia | Gothic |
Just some of the lovely polymer clay beads you can find on Etsy by a variety of artists:
| | |
| --- | --- |
| | |
| Textured Beads by BarbiesBest | Heart Beads by Sigaliot |
| | |
| Swirl Lentils by ShuliDesigns | Clay Beads by TLSClayDesign |
I've been doing polymer clay for years and it still makes me smile when I find people doing new work. The embellished glasses were a shiny new find:
Black Cat Sunglasses by Metalfor
Post Earrings by CoffeeandClay
Covered Crochet Hooks

…
Some of the teeny, tiny polymer clay sweet treats on Etsy:
| | |
| --- | --- |
| | |
| Pink Pastry Acorn by ParisMiniatures | Ice Cream Cake by Asakomini |
| | |
| Watermelons by hungarianminiatures | Raspberry Vanilla Charlotte Cake by WithLoveFromMonique |
Check out what's going on around the polymer clay blogosphere:
The school supplies were out at the department store last week. I figured I'd take a peek and see what the talented clayers were making for the back-to-school folks!
Locker Magnet by sarahbellumshop
Business Card Holder by craftsbymorgan
Polymer Clay

…
« go back
—
keep looking »