Feb
17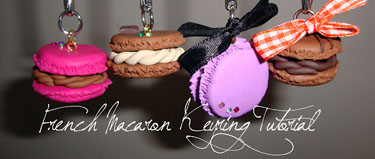 Here's a fun one from TheGlueGunGirl: a tutorial for little clay French style macarons. She makes these into keychains but really they'd work wherever you'd like a macaron bead.
One thing I'd note is if you're going to use a mix of clays, cure at the higher temp, for the full time. You may darken your lighter colour but if you are making a keychain, you need the extra stability a correct time and temperature provides.
By Elaine Robitaille
You may also like...
Comments