Aug
24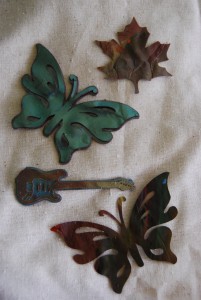 Jenny over at CraftTestDummies (love that name!) called my attention to what she was up to with clay and a Cricut! Turns out she has a cute tutorial for using your die cut machine with baked clay sheets. You could use your cut outs for anything, including reapplying to clay. At the thinness you'd use for this, the cut outs would be flexible enough to put onto slightly curved surfaces, particularly if you warmed them slightly first.
If anyone uses this application for a piece, let me know. I'd love to see it!
By Elaine Robitaille
You may also like...
Comments