Clay related things to participate in:
From the neat and new department of Clay on Etsy:
| | |
| --- | --- |
| | |
| Kaleidoscope Cane by IKandiClay | Adjustable Bracelet by FruitLoopJewellery |
| | |
| OOAK Sculpted Fairy by LaurieAnnGray | Funny Bunny Ring by PennysLane |
One of the best things about crafting has always been the chance to make gifts for people. Or buy handmade gifts if you're running a little short on time. Here's some great Mother's Day items:

A little of what is going on in the clay world:
Terrariums are wonderful miniature worlds and since polymer clay is such a fabulous medium for making minis… here's a selection of terrarium minis by clayers to enjoy:
Mini Fairy Village by FizzyClaret
Toadstool Trio by PumpkinTreeLane
Clay Fox Sculpture by

…
I'm a little late writing about this because Katie has been knee deep in the Friesen Project for ages now but late to the party or not, here's the deets:
In a nutshell it's 52 weeks spent devouring Christi Friesen's

…
Spring, in theory, is just around the corner. You wouldn't know it from the weather here but the clayers on Etsy have fabulous pieces ready to go:
Daffodil Cat Necklace by MelodyODesigns
Flowering Mandela Cane by ClaybyKerm
Miniature Kaleidoscope by

…
The orders for wedding related beads and pieces are piling up in my world which means it's the season – and clayers are making awesome pieces:
Cream Rose Hair Clip by Tashascreation
Toasting Flutes by PolymerClayWhims
Swan Wedding Cake Topper

…
What are Etsy poly clayers doing for Easter? Have a peek:
| | |
| --- | --- |
| | |
| Easter Egg Earrings by PixieHearts | Tiny Bunny Sculptures by mirandascritters |
| | |
| Easter Bunny Sculpture by MadreOlly | Mini Easter Cat by APieceofLisa |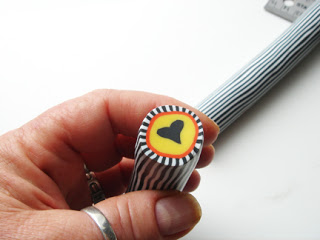 Marie Segal's tutorial for a trade bead offers a non-traditional heart for us just in time for Valentine's Day!
And, if you haven't been reading along with Cynthia over at PolymerClayDaily this week, check out her feature on Ron Lehocky…
Some of the fun stuff going on out there that can give you the chance to stretch your claying muscles:
Sweet gifts:
| | |
| --- | --- |
| | |
| Baby Valentine Mermaid by JoyzanzCreations | Robot Love Pendant by GingerDead |
| | |
| Illuminated Heart Jewellery by phydeauxdesigns | Green Heart Studs by KatrinSArt |

A little of what's caught my eye out in the clay world this week:
Clayful ways to show your love:
| | |
| --- | --- |
| | |
| Cube Love Heart Necklace by monsterkookies | Love Necklace by ForestDaydream |
| | |
| Stegosaurus Love Sculpture by MadeWithClayAndLove | Love Magnet by walkercrafts |
A nod to the new year in polymer clay:
New Years Eve Mark WingsofClay
Star Gift Tags by LiLao
Cocktail Ring by Creashines
…
keep looking »