The sheer variety of colours is one of the best features of polymer clay. Each of these necklaces would brighten anyone's day.
| | |
| --- | --- |
| | |
| Faux Lava & Brights Necklace by PenelopeStern | Provance Necklace by Caffeinegirl1 |
| | |
| Polymer Clay Necklace by Lelandjewelry | Double Strand |
Thanksgiving is on it's way and there are some silly and sweet takes out in the clay world:
| | |
| --- | --- |
| | |
| Turkey Pin by Freeheart1 | Tiny Pilgrims by MyWillies |
| | |
| Pumpkin Earrings by SuePsales | Pilgrim Sculptures by indigotwinholiday |
As fall moves into winter (here at least!) and November really gets going, people are still claying merrily along:
A big plus for polymer clay ornaments is how easily you can personalize them. Some great Etsy examples:
| | |
| --- | --- |
| | |
| Bear and Station Wagon Ornament by PersonalizedOrnament | Christmas Tree by dewsdreams |
| | |
| Baby's 1st Ornament by ClayArtbyDaresa | Snowman Ornament by MistysClayCuties |
Fan picks, bright colours, great textures and interesting images. Basically, polymer clay peeps are super creative.
1. Homura-chan, 2. Bones, 3. Curs Fabi inspiració marina, 4. Skull Pod necklace – Reya…
When I am trying to think of themes to use for my Etsy related posts, I'll occasionally ask my daughter for inspiration. As she was thinking about it our old man cat gingerly jumped up on the sofa between us …
I realize the official first day was 2 weeks ago or so but the first big show of my fall season was this weekend and the mornings were particularly chilly – almost frosty! The rest of the polymer clay world …
I sell my work on and offline. Because of this, I started making Christmas decorations shortly after Christmas last year. At least, I tell myself it's because of the retail calendar and not because I couldn't finish my to-do list …
I searched for pumpkins to see what folks were doing with the theme this autumn. Polymer clay is such a flexible medium you can interpret a theme an awful lot of ways…
Some more fun and cheery Halloween clay: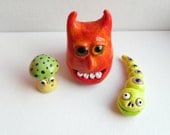 Halloween Creatures by Erinle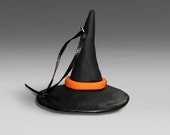 Witch's Hat by RedCreekDesignCo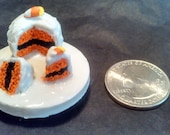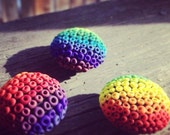 Halloween Cake Magnet by ClayConfectionary
…
JooJoo on Etsy is a talented jewellery and print artist. She's also a talented clayer, as you can see from the adorable little cactus on her site. I found the cactus as I was looking for inspiration – yes, I …
School gets back in on Tuesday where I live. My poor teen is both dreading and looking forward to the whole deal. Back to school themed work is in full force on Etsy:
I'm always happy to find crafters who, experienced in other mediums, are having a blast trying out polymer clay. Ellie Foster at Feltabulous is my latest find and you can see not only is she having a blast but she's …
Just checking out what's new on Etsy! I'm always happy to find new (to me!) shops, as well.
| | |
| --- | --- |
| | |
| Tropical Sunset Pin by TissysTreasures | Cane Set by SevenWestDesigns |
| | |
| Fox Rings by VeryTale | Caramel Apple Keychain by GuiltfreeDecadence |
A little about what the polymer clay world is up to:
Have you heart about EuroSynergy? It run April 30 thru May 3 2014 in Malta. There are pre-conference workshops. It sounds awesome!
Of course there's PCC's Monthly challenge

…
keep looking »