Like the great food minis from yesterday here's Bethany's fabulous cake for her daughter. The sweet tablecloth is fondant but the super cute tea party decorations are clay, making for playability for her daughter. What a great idea!
Birthday rush …
Isabel Drinkwalter of Lady L Designs wrote in with a blog post about how she approaches custom orders. She's a talented clayer and jewellery designer and is (comparatively) local.
I'm always interested to see how other people handle their businesses …
JooJoo on Etsy is a talented jewellery and print artist. She's also a talented clayer, as you can see from the adorable little cactus on her site. I found the cactus as I was looking for inspiration – yes, I …
I'm always happy to find crafters who, experienced in other mediums, are having a blast trying out polymer clay. Ellie Foster at Feltabulous is my latest find and you can see not only is she having a blast but she's …
I get teased by family and friends for making my ornaments beginning in early spring. I buy supplies for them at the Boxing Day sales. And every year I'm actually a little closer to prepared for holiday sales and gifts. …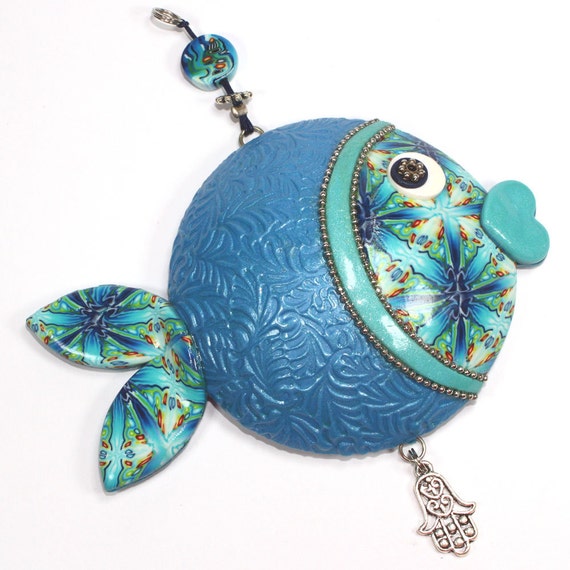 I'm always asking clayers to send me links to what they're up to, their shops, their blogs and Shuli took me up on it. Her Etsy shop is a bright and cheery place. The fish, above, is just one …
Amber Elledge makes bright, wonderful pieces – I'm particularly taken with her clay filigree, something I never did nicely – and this pen tutorial is no exception. She builds on an existing cane tutorial from Parole de Pâte, adding …
Continuing along with the cane theme… Amatista generously shares a tutorial on her Flickr photostream to make a flower cane similar to this one. She has a website to see more of her lovely work as well.…
I've mentioned it before but I'm all for mixing clay with… well, a heckuva lot of stuff. Felt is a fun one and Nicola does a fabulous job here with her necklace. She mentions she is inspired by Ronna's Ancient …
I'm a polymer clay cane freak. I make a lot of canes. Carol Greiser of PolymerClayShed does too! In her blog post she sketches (ha!) how she goes about putting together a hummingbird cane. This is similar to a post…
I'm pretty sure I live in one of the climates with colder winters so there's a lot of griping about the weather here when we get bone chilling cold. And being an obsessed clayer I often look to see what …
In browsing Etsy for some great Halloween themed polymer clay art I stumbled across KilkennycatArt by Ryan Conners. She has wonderful ornaments like the witch cat above!…
I know it's a little early. Here's a bit of what's coming up for autumn in polymer clay:
| | |
| --- | --- |
| | |
| Pear Dioarama by ADifferentPlace | Leaf Earrings by CurlyGirlDesigns |
| | |
| Pumpkin Cane by ikandiclay | Acorn Necklace by MySelvagedLife |
BloomyJewelry is run by two sisters, Zane and Ieva, from Latvia. The shop specializes in bright fun polymer clay jewelry and definitely needs a peek!…
I forgot to get to blithering about this part of my CF class – she talked about her book projects. The awaited Dogs book (the next in her sculpting series) will be in 2013.
And there are children's books ahead …
keep looking »