Oct
1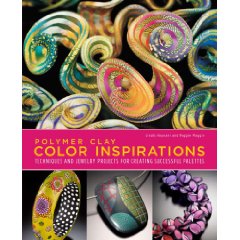 Polymer Clay Color Inspirations – Techniques and Jewelry projects for creating succesful palettes by Lindly Haunani and Maggie Maggio (RRP $21.95)
This book will teach you everything you need to know about color palettes. With topics like "playing with colors" and "mixing colors that flow" you are destined to travel on a kaleidoscope of colors when reading this book. It's almost like a sophisticated color trip with only an addiction to clay and not drugs.
For your chance to win this review copy simply enter your details here
Competition details
Open – Worldwide
Closes – November 1st
This review was written by Editor Shellie Wilson
You may also like...
Comments