Nov
15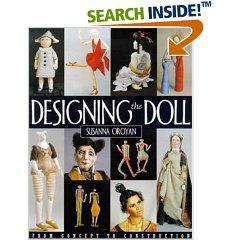 In Designing the Doll, Author Susanna Oroyan demystifies the creation of dolls by offering techniques, basic construction and some very good thoughts on design instead of step-by-step projects.  Filled with diagrams and color photos of dolls from the some of top contemporary doll-makers, inspiration is on every page.
 Another book worth getting is her Fantastic Figures: Ideas & Techniques Using the New Clays.  This one is geared more towards the polymer clay artist, although I don't find this one quite as appealing.  It does offer more tips on construction using clay, so if you are just starting out, this may be the one to get.
[tags]polymer clay, dolls, doll-making, sculpting, figures, crafts[/tags]
You may also like...
Comments